Hundreds still struggling with effects of snow storm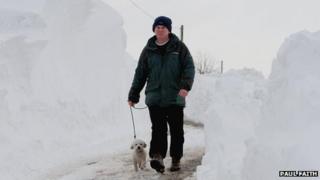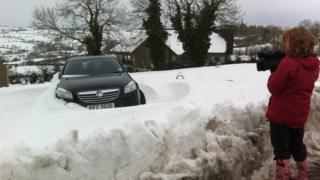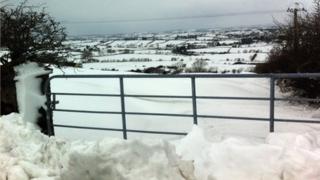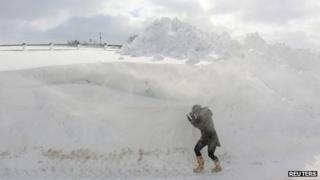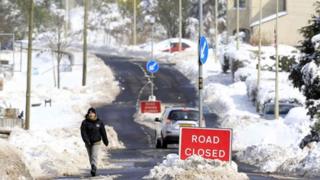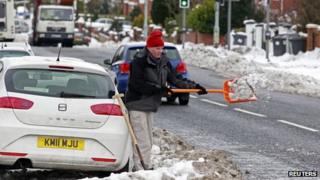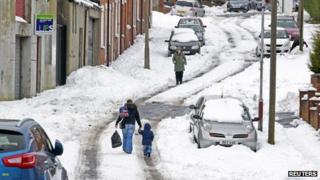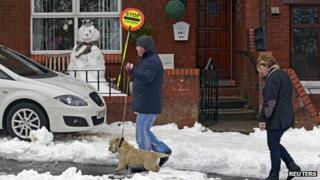 Hundreds of farmers and rural residents are still suffering the effects of the heavy snow in Northern Ireland.
Many sheep farmers have been unable to get food supplies to their livestock and are facing significant losses.
First Minister Peter Robinson has suggested the executive may look at ways of compensating farmers.
Meanwhile, 100 properties are still without power. Helicopters have been deployed to areas where access is difficult.
Farmer Campbell Tweed, a farmer from Cairncastle, near Larne, in County Antrim, said some of his sheep were getting their first feed in four days.
"Road conditions are just incredibly bad. There's places where the snow at the side of the road is higher than the vehicles.
"It's coming late in a very, very tough winter - it's just putting the tin hat on us for many of us."
The first minister said his party had asked for the Territorial Army to help clear roads.
Mr Robinson was speaking on a visit to Dromara, County Down, one of the worst affected areas, where sheep farmers have been badly hit.
Agriculture Minister Michelle O'Neill said she had asked the secretary of state for urgent access to helicopter support.
Speaking after visiting farms in the Glenarm area of county Antrim, she said: "My department is currently sourcing livestock feed for those most affected.
"A main priority is to ensure roads are cleared to help farmers in dealing with the effects of the severe weather, and I have been speaking with Regional Development Minister Danny Kennedy today on how our department's can work closer on this issue.
"I have instructed rivers agency staff to provide support to the roads service to assist in clearing minor roads in affected areas which will assist in getting much needed access to these areas.
"I have also instructed the chief executive of the forest service to deploy their tracked vehicles to help support this work."
Abandoned cars have also been causing disruption on some roads.
NIE said it had worked to restore power to more than 137,000 customers over the weekend. Thousands lost their supply due to strong winds and heavy snow.
NIE says it could be Tuesday before power is restored to all customers.
"We're working with Roads Service to get roads cleared but in some areas we are going to have to helicopter crews and materials in," said NIE spokeswoman Julia Carson.
"We have over 140 extra lines staff from the Republic of Ireland and Scotland and they've been helping our emergency crews on the ground. There are just some areas where we cannot physically get to the faults."
Small groups of customers are without supply in the following areas:
Ballyvoy area of Ballycastle
Cloghs Road, Cushendall
· Kilcoo and Leitrim area of Castlewellan
· Areas around Ligoneill, Hannahstown, Stoneyford, Dundrod
Ms Carson said the weather conditions on Friday were "exceptional".
"Our key focus is to restore power," she said.
"We have been using a helicopter to patrol remote areas and have commissioned an additional helicopter to deliver NIE emergency crews, engineers and equipment into these areas on Monday by air.
"Our incident management centre and local incident centres in affected areas are open and will remain operational until all customers are back on supply."
NIE said any customers still without power should contact them.
NIE's customer help line number is 08457 643643.
Meanwhile Belfast Trust said some operations which were scheduled for Monday had been cancelled as a result of the bad weather.
The trust apologised but said most planned surgery had gone ahead as planned.
It said it would continue to prioritise urgent and cancer patients.
The trust said any cancelled operations would be rebooked at the earliest opportunity.
A spokeswoman for the Northern Trust said hospital services were operating as usual.
"Some community staff had problems reaching clients in remote rural areas who receive health and social care services," she said.
"Contingency plans were put in place to ensure that all clients were contacted and where possible received appropriate care.
"Where staff could not reach clients due to severe weather conditions the trust contacted family and neighbours of clients and the PSNI to ask them to visit the client and provide support for these vulnerable people."