Scotland's independence poll will be closely watched in NI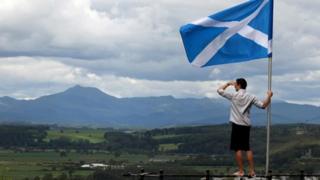 The countdown to Scotland's referendum on independence has begun, and politicians in Northern Ireland will be watching particularly closely.
With 18 September 2014 confirmed as the date of the vote, the campaign in Scotland is being stepped up.
With the possibility of a similar vote on Northern Ireland's place in the United Kingdom at some stage, the politicians at Stormont will be monitoring not just the result of the vote, but the campaign.
In particular, they will be studying the slogans, tactics, use of social media, opinion polls, billboards, leaflets and media strategies of the Yes and No camps.
There could be a referendum ripple-effect on this side of the Irish Sea.
Sinn Fein are hoping the Scottish vote will add momentum to their campaign for an Irish border poll.
Although the most recent opinion polls suggest Scotland's place in the UK is safe, the next 18 months could give unionists a few sleepless nights.
So is the largest pro-union party at Stormont, the Democratic Unionists, worried about the outcome of the 18 September vote and the potential break-up of the union?
"No," says Arlene Foster MLA.
"Recent polls showed a huge majority of people here (in Northern Ireland) want to remain in the UK for a whole myriad of reasons. It will be the same in Scotland.
"People will vote to stay in the UK for economic, social, cultural and political reasons. There'll be a whole number of reasons."
Sinn Fein have a different view of the union but they do at least agree on one point: that the people of Scotland should be allowed to make the decision themselves, without outside interference.
Instead, it seems Stormont's politicians will be 'nosy neighbours' casting a close eye at events across the Irish Sea.
Sinn Fein MLA Barry McIlduff says: "People in the north of Ireland will be very curious. But this is essentially a matter for the Scottish people.
"I just wish the same type of referendum was taking place in Ireland.
"The Good Friday Agreement legislates for a border poll and I would like a poll here sooner rather than later."
The 15-year-old Agreement places the decision to hold a referendum firmly in the hands of the Northern Ireland Secretary of State.
It says he or she "shall exercise the power if at any time it appears likely that a majority of those voting would express a wish that Northern Ireland should cease to be part of the United Kingdom and form part of a united Ireland".
Clearly, the current secretary of state for Northern Ireland, Theresa Villiers, does not believe that point has been reached.
However, she too will be watching the Scottish independence debate with interest, like so many others in Northern Ireland.
It is a political issue that is close to home, in more ways than one.