Budget 2013: NI reaction to George Osborne's statement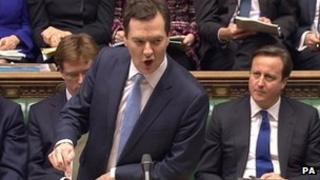 A round-up of political and business reaction in Northern Ireland to George Osborne's Budget.
Nigel Smyth, CBI
Today's budget statement has gone some way to building business and consumer confidence with a number of measures being of key note.
The agreement to exempt Northern Ireland electricity generators from the carbon floor price effective from 1 April is something CBI has lobbied hard for. This tax would have cost Northern Ireland £175m over the next five years which would have had a detrimental impact on commercial and domestic energy prices. CBI strongly welcomes an extra £94m of capital spending power for the Northern Ireland Executive which will help generate employment and kick start a number of key infrastructure programmes.
The cancellation of the fuel duty escalator due in the autumn will be welcomed by consumers and businesses alike, while a new employment allowance from April 2014 will allow 25,000 NI businesses to offset £2,000 against their National Insurance bill, saving a total of £35m and taking 10,000 NI businesses out of employer NICs altogether.
Peter Bunting, ICTU
Today, Northern Ireland's unemployment rate hit its highest level since the Good Friday Agreement, further proof, if it was needed, that austerity is not working, that it is, in fact, causing lasting damage to the Northern Ireland economy.
The imposition of an effective wage cut for public servants will only ensure that economic demand is kept down, ensuring that the private sector cannot "take up the slack" by employing more workers. The long-term unemployed will remain in the sidelines of our society and the record number of jobless young people can only dream of getting a foothold on the career ladder.
Brian Campfield, NIPSA
Our members have had years of pay freezes - real term wage cuts - and today had the 1% limit on public sector pay confirmed for 2015/6. Osborne has also made clear that he intends to attack the progression/incremental system.
This comes on top of increased pension contributions imposed by this government of millionaires - forcing workers to work longer, pay more in contributions and receive less in pension. The confirmation within the Budget that Northern Ireland departments will face a further extra 1% cut to their budgets also shows that the failed austerity measures will continue. While there will be much "spin" around minor changes to personal allowances, this is put into context by the fact that, since 2010, each family in the UK has had the equivalent of £1,360 taken from them in tax and welfare changes.
Colin Neill, Pubs of Ulster
The chancellor's decision to scrap the beer duty escalator marks a significant victory for the industry.
Pubs of Ulster has lobbied extensively to bring an end to the beer duty escalator - which allows duty to increase automatically by 2% more than inflation every year. Since 2008, the escalator has brought about a staggering 42% increase in taxation. The impact on the industry each year has been significant, with many within the trade citing the escalator as a key contributor to pub closures.
Mark Nodder, NI Chamber of Commerce
A new employment allowance which promises to cut the national insurance bill by £2,000 for every firm is welcomed. Putting £3.5bn into helping buyers afford new homes will help the construction sector and the increase in the value of personal allowances to £10,000 will assist employers.
Whilst we welcome the 1% reduction in corporation tax, it is not enough for Northern Ireland. Ahead of the first and deputy first ministers' meeting with the prime minister on 26 March, we urge the Treasury to speed up their response on the call from the Northern Ireland Executive and the local business community for a reduction in corporation tax to the rate currently operational in the Republic of Ireland.
Martin Fleetwood, PwC
The credit, which comes into force on 1 April, will cut the cost of doing research and development in the UK, making such centres more globally competitive for inward investment and indigenous companies. This is good news for Northern Ireland's firms and especially those in high technology sectors, like life sciences and aerospace.
And, for the first time, smaller businesses with fewer than 500 employees will be able to get cash credit on research and development which is either grant-funded or undertaken for customers.
Cameron Watt, Northern Ireland Federation of Housing Associations
In recent years, the number of homes built in Northern Ireland and across the UK has been plummeting. George Osborne has rightly identified that boosting house-building is essential to our economic recovery. University of Ulster research shows that for every 10 jobs created through our social housing development programme, at least a further seven jobs are sustained elsewhere in Northern Ireland's economy.
The measures announced in the Budget to increase house-building are welcome and it is vital Northern Ireland gets its fair share of funding from these schemes.
We now need the Northern Ireland Executive to take decisive concerted action to maximise house-building, such as releasing more public land, speeding the planning process and tackling our gold-plating of EU procurement rules. This action is vital to save our remaining construction firms, achieve the Programme for Government's target of 8,000 new social and affordable homes by 2015, and deliver the 11,000 new homes Northern Ireland needs annually to meet housing need.
Brian Donaldson, Maxol Group
For many years, motorists have been an easy target for the treasury but with the possibility of the UK facing a triple-dip recession, it would have been wholly unacceptable for the chancellor to implement a duty hike.
The fact that this government has frozen fuel duty on several occasions shows that they have heard the voice of angry consumers for whom fuel costs are a significant component of their weekly spending. The continued freeze on duty is also some comfort for local businesses whose costs are rising at a time when overall market conditions remain depressed.
David Wright, CBRE commercial property consultants
We welcome the "help to buy" scheme, it will be interesting to see how this proposed scheme will work along with the co-ownership scheme which has been operating successfully in Northern Ireland for a considerable time.
Whilst the cut in corporation tax will be broadly welcomed, it does not go far enough for Northern Ireland, as we continue to lose foreign direct investment to the Republic of Ireland and its more generous corporate tax structures. On a day when Northern Ireland announced its highest unemployment for 15 years, we would have liked to have seen a further lowering of corporation tax to attract new jobs; the introduction of enterprise zones to kick start development and a rating revaluation to assist the struggling retail sector.
Forum of Private Business
This business lobby group said the employment allowance, worth £2,000 to all businesses with employees, was a real boon for smaller UK businesses.
"We've been calling for a scheme like this for a number of years now, so our only disappointment with this is that it is 12 months away and that is a mighty long way off. While business will love the concept, the fact that no financial benefits will be felt until April 2014 somewhat takes the shine off it. Still, it will allow for businesses to prepare and plan ahead."