Peter Robinson and Martin McGuinness meet Barack Obama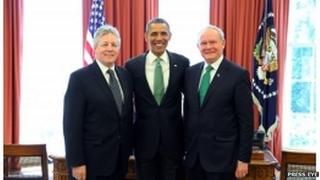 Northern Ireland's first and deputy first ministers have met the US President Barack Obama at the White House in Washington.
Peter Robinson and Martin McGuinness briefed the president on how Northern Ireland devolution has been working.
The meeting was part of St Patrick's Day celebrations at the White House.
Referring to Northern Ireland later, Mr Obama said: "There's a lot more work to be done before there's true unity in that country."
The events took place on Tuesday because St Patrick's Day fell on a Sunday this year.
Mr Obama also met the Irish Prime Minister (Taoiseach) Enda Kenny at a St Patrick's Day lunch.
At the event, Mr Kenny spoke of "a time of great fragility in Northern Ireland,"
A number of attempted bomb attacks by republican dissidents have been foiled recently and there has also been loyalist violence linked to union flag protests.
"We do not want a situation where those (in the) minority who have bad thoughts and bad blood want to turn the days back to the dark days of the Troubles," Mr Kenny said.
He urged President Obama and the US Congress to continue supporting peace and progress in Northern Ireland.
The meeting was ahead of President Obama's trip to NI for the G8 summit.
The two-week trip is part of a wider programme aimed at promoting Northern Ireland.
Both Mr Obama and Mr Kenny hailed airline Ryanair's announcement on Tuesday that it will buy 175 jets from Chicago-based Boeing Co, which has struggled ever since its new 787 Dreamliner was grounded by regulators in January following problems with its electrical system.
Ryanair's purchase of the popular 737 jets constitutes the largest order ever placed by a European carrier.
"It's an example how the progress made in Ireland benefits jobs and businesses here in the United States," Mr Obama said.
House Speaker John Boehner, the top Republican in Congress, sat between Mr Obama and Mr Kenny at the luncheon, and wiped away a tear after singer Anthony Kearns of The Irish Tenors sang a tune called 'O' America'.
"I'd say this is the loudest gathering of Irishmen in Washington since the last time Joe Biden dined alone,'' Mr Boehner said, referring to the US vice president.
"It's like I'm always telling the president: You only tease the ones you love."
The Obamas also hosted an evening reception where Mr Kenny will present the president with a cluster of shamrocks - a tradition started under President Harry Truman.