Officer injured in trouble linked to flag protests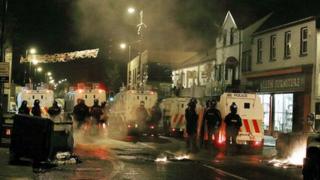 A police officer has been injured during trouble linked to the loyalist flag protests in south Belfast.
A group of masked youths blocked the Donegall Road, near Sandy Row, and attacked police with bricks and bottles.
Police said sporadic disorder flared between 20:00 GMT and 22:00 GMT on Sunday.
Protesters burned bins on the road and carried out "sustained attacks on police". A man was arrested.
An officer suffered minor injuries.
Fire crews were called out to deal with the situation. There was a police presence in the area until late on Sunday night.
A police spokesperson said: "Following a robust policing operation calm was restored to the area at around ten o'clock.
"Detectives from the Operation Dulcet Team have been clear from the outset that there will be consequences for individuals who engage in illegal activity.
"The PSNI have, and will, continue to make people amenable to the courts and will be carrying out further enquiries to identify those involved in the disorder."
Operation Dulcett deals with all flag or protest related matters.
The 18-year-old who was arrested has since been released pending a report to the Public Prosecution Service.