Belfast St Patrick four day festival underway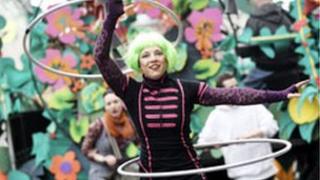 The first ever St Patrick's Day festival organised by Belfast City Council is underway.
Over the next three days there will be a series of events, including dramas, talks, exhibitions and arts and crafts.
The events will be held in a number of venues across the city including the Ulster Hall, the Linenhall Library, An Cultúlann, St George's Market and the Oh Yeah Music Centre.
Belfast City Hall will be the focal point for the festival
The main highlight will be on St Patrick's Day when thousands of people are expected to take part in a carnival parade in the city.
That will be followed by an open air concert, headlined by the X-Factor's Amelia Lily, at Custom House Square.
Gerry Copeland from the City Council said we expect to see about 15,000 people to come into the city centre on St Patrick's Day.
"With the actual festival itself we'll probably see those figures at least double" he said.