Duncrue towpath bombing: police revisit scene of murder bid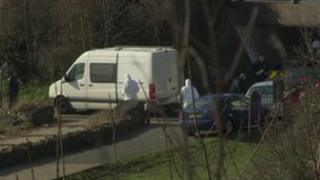 Detectives investigating a bomb attack aimed at police on the outskirts of Belfast last weekend have revisited the scene exactly one week on.
Three PSNI officers were in the area when the bomb partially exploded on Duncrue towpath near the M5 motorway on Saturday 9 March.
Police are treating it as attempted murder and are working on the basis that dissident republicans were responsible for the attack.
A gun was later found on the towpath.
Police said they believe the gun could be linked to the bomb attack.
It is understood the device was detonated by mobile telephone, and that it was possibly the first time dissident republicans have used a mobile to detonate a bomb of this type.
It partially exploded as the officers, responding to a call, made their way along the towpath.
They were left badly shaken by the blast but were not injured.
It was the third time police had been called to the area within 24 hours.
There had been two previous call-outs to police on 9 March, alleging a crime had been committed in the vicinity.