Union flag protests: campaigner Willie Frazer granted bail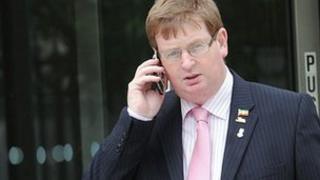 Loyalist campaigner Willie Frazer, who is charged with offences linked to flag protests in Northern Ireland, has been granted bail at Belfast High Court.
Mr Frazer, 53, from County Armagh, faces six charges linked to protests over the restriction of the union flag at Belfast City Hall.
They include encouraging offences by making a speech to flag protestors.
On Thursday, appearing via video link from Maghaberry Prison, he said he accepted his bail conditions "100%".
They include that he live at his home in Markethill and make no public speeches or social media comment over the union flag dispute.
Mr Frazer must also stay at least two miles from any public protest or procession and must report to the police once a week.
He was released on bail of £500 and two sureties of £900 each.
The allegation that Mr Frazer encouraged offences in a speech to flag protestors relates to his address to a crowd at Donegall Square, Belfast, on 19 January.
He is also accused of three counts of taking part in an un-notified public procession, obstructing traffic in a public place, and possession of a prohibited weapon, namely a Taser.
A spokesman for the Ulster People's Forum, he is one of the most high-profile figures to be charged in connection with ongoing demonstrations over the decision to limit flying of the union flag at Belfast City Hall.