Horsemeat DNA found in Lurgan firm's meatloaf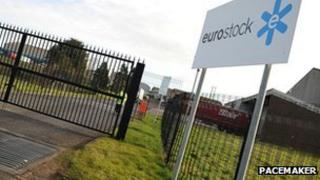 Tesco has withdrawn a line of frozen meatloaf made by County Down company Eurostock Foods.
The product made on the firm's premises outside Bleary has been found to contain horsemeat.
Labelled as Tesco Simply Roast Meatloaf, the product was withdrawn after tests revealed it contained between 2% and 5% horsemeat.
Eurostock Foods said it was shocked and disappointed by the discovery and that it was launching an investigation.
In a statement the family-owned firm confirmed that product manufactured in its Northern Ireland plant had been found to contain equine DNA.
"The integrity of our supply chain is vital and we are working closely with our customers to try to establish the source of the contaminating material," the company said.
"Our investigations are ongoing and we remain in constant dialogue with all relevant parties."
In a statement Tesco said tests on 15 other lines from the Eurostock site were clear of horsemeat.
"Our investigation to thoroughly understand the source of the contamination has started and we will complete our investigation before deciding whether to continue using the supplier."
The supermarket said this was the fourth of its own brand products to be contaminated with horsemeat and that it had now been withdrawn.
Tesco also apologised to its customers.