Memory loss car-crash Derry man hopes to become lawyer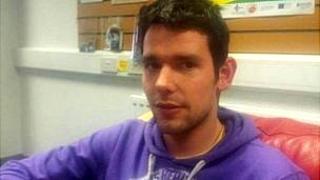 A Londonderry man who suffered brain damage and memory loss in a car crash, now intends to become a lawyer.
Paul McDermott, who is 22 and from Eglinton, was studying to be a mechanic before he and his friend were involved in a traffic collision in 2010.
Mr McDermott suffered severe brain and chest injuries but said he would not change his life for the world.
He now has a four-month-old son and is set to enter university to study for a law degree.
He said severe memory loss had forced him to "re-assess everything".
"I had to sit down and evaluate what I was going to do, because I couldn't do what I wanted to do," he said
"I went ahead with a business course because I had the intention to start my own business."
'Good grades'
He said that while he was doing that course, he became interested in law.
"I've come out with good grades so I'm going to go for a law degree to see where that takes me."
After the accident, he took a year to recover before going back to college
He said his loss of memory was "really annoying to start with" because he "wrecked his brain" trying to remember events.
"I have a big period of memory missing. My short-term memory has not been great ever since. I have practiced and practiced to improve it," he said.
"I've been really frustrated in the last couple of years. It was one of the major issues. For a year after I came out of hospital, I had really, really bad frustration."
Recovery
Despite his horrific experience as a passenger in a vehicle involved in a bad crash, he was determined to drive and eight months ago earned a medically-restricted driving licence.
He said that was a big step towards his recovery.
Mr McDermott said his condition was not just hard on him.
"The times it would have been tough on my family, but I have no memory of it."
Looking back, he said, he would not change anything.
"You just have to set yourself goals and go for them," he said.
"The only way you are going to get anything is to go for it."