Hightown quarry site proposed for £240m waste facility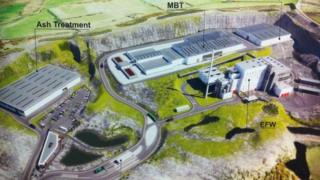 A new plan to deal with waste from 11 council areas in Northern Ireland could see an incinerator and waste facility built near Mallusk in County Antrim.
Arc21 said it intended to develop the "energy from waste" facility at a quarry on the Boghill Road.
If planning is approved, the £240m investment would be one of the biggest, single infrastructure schemes ever undertaken in Northern Ireland.
The plant could create 340 jobs and generate enough power for 30,000 homes.
Public consultation
The planned waste development will also include an adjoining "mechanical biological treatment" plant.
It will sort recyclable material and then treat the remaining waste to make it more combustible.
A public consultation on the waste facility plan is due to begin shortly.
Those behind the proposed plant said it would help Northern Ireland to meet EU targets on landfill diversion and avoid hefty fines.
Arc21 is an umbrella group for waste management by 11 councils in the east of Northern Ireland.
'Centrally located'
It has commissioned the Becon Consortium to develop the waste facilities at the quarry off the Boghill Road on its behalf, pending the "completion of a competitive procurement process".
The consortium is backed by E.ON Energy from Waste AG, a European company that currently operates 19 waste plants in Germany, the Netherlands and Luxembourg.
In a statement, the developers said the quarry was "considered the best location for the new facilities as it is centrally located in the Arc21 area, and has good connections to the primary road network as well as the national electricity grid".
"Importantly, this active industrial quarry site is of sufficient size and scale to absorb the scheme and lends itself well to visual screening and noise shielding," the statement added.
The project director, Ian Smith from Becon Consortium, said: "This is a very exciting project which will see Northern Ireland catch up with the rest of Europe in ensuring we view waste as a valuable resource.
"Not only will it address the European imperative to divert our waste from landfill, but this project will ensure we extract the maximum value from the remaining non-recyclable black bin waste to generate much needed renewable and sustainable energy."
Green Party spokesperson Ross Brown said: "Any development of this scale needs to be done with the full consultation and approval of the community surrounding on which it will have the most impact.
"We have yet to see the details on this waste incineration plant and, while waste sent to landfill is more harmful to the environment than incineration, incineration should only be considered when the possibility to re-use and recycle our waste have been exhausted.
"We haven't made sufficient progress in reducing waste at source as happens in other areas of Europe.
"Neither burying nor burning waste is good for people, good for the economy or good for the environment."