Causeway Hospital A&E ambulance diversion ends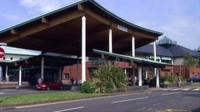 The Causeway Hospital's A&E department is functioning as normal again, after it diverted ambulances temporarily, due to "increased pressure" on the unit.
For six hours on Monday night, staff at the unit in Coleraine diverted patients away from the Causeway towards Altnagelvin and Antrim Area Hospitals.
Extra staff were brought in to deal with the extra pressure.
The Northern Health Trust's medical director, Dr Peter Flanagan, said the diversion was a "temporary measure".
Dr Flanagan told BBC Radio Ulster that ambulance diversions were put in place between 17:00 GMT and 23:00 GMT on Monday.
'Buying time'
"It was brought about because of the very severe pressure on the emergency department at Causeway Hospital," he said.
"What we were basically trying to do was just buy a bit of time to take the pressure off the department, which we were able to do over those few hours and the department is now back to normal functioning again."
The Northern Health Trust has confirmed that from Saturday to Monday, 28 patients waited more than 20 hours for treatment in the Causeway's A&E department.
The trust's medical director said staff were still trying to cope with what it regarded as "winter pressures", where many patients had "winter-like illnesses". He said the ambulance diversion was a response to that.
"Over the weekend there was increasing pressure on the hospital," Dr Flanagan said.
"We have been dealing with a lot of patients who are very sick with respiratory tract infections and that led to a gradual build up of pressure in the hospital and that really backed up into the emergency department."
'Third world hospital'
East Londonderry MLA David McClarty told the BBC he had been contacted by several worried patients.
"After being contacted by concerned constituents I spoke to a senior member of staff at the hospital who told me there were patients lying on trolleys in A&E and that there was considerable pressure on staff - who were working way beyond the call of duty.
"They described it to me as being like a third world hospital, the worst they had seen in 20 years in the NHS" he said.
Mr McClarty said it was an "intolerable situation".
Dr Flanagan apologised to patients who had to wait hours longer than they should have, in respect to current waiting times targets.
"None of us would want this kind of treatment for ourselves or for our families," he said. "We are working very, very hard to address the the underlying problems that lead to these excessive waiting times.
'Positive signs'
"We do feel that we have made significant progress - when we look back at the situation last year - but we recognise that there is still an awful lot to do.
"We do see very positive signs on the horizon. We are working extremely well with for example our colleagues in primary care. We have very good collaborative working with them and we see that kind of work as being the longer term solution to these difficulties," Dr Flanagan added.