Northern Ireland ministers open George Best exhibition during Brazil trip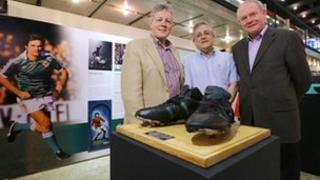 Northern Ireland's first and deputy first ministers have opened a George Best exhibition as part of a five-day visit to Brazil.
The exhibition, in Sao Paulo is a display of George Best memorabilia, including medals, awards and shirts.
Peter Robinson and Martin McGuinness will promote economic development, trade, tourism, university and sporting links during the trip.
They will also visit Brasilia and Rio de Janeiro.
The visit is part of a wider programme aimed at promoting Northern Ireland in the world's fastest growing economies.
The first minister said the Northern Ireland Executive's Programme for Government has placed the economy as the top priority.
"Building strong links with world leading markets is a vital part of that work and I welcome this opportunity to come to Brazil.
"One of our most charismatic sports personalities ever was the legendary George Best who thrilled soccer fans all over the world," Mr Robinson said.
"This collection of George Best memorabilia has been loaned to the Morumbi Stadium until 10 April. Thanks to the great generosity of his old club, Manchester United."
The deputy first minister said as the sixth largest economy in the world Brazil is an important country to build political, business and tourism links with.
"There is no better place to start our relationship with the Brazilian people than through our shared passion for football.
"During 2013 we want to seize every opportunity to take our story to a global audience and demonstrate the north of Ireland is a great place to do business and a fun place to visit," Mr McGuiness said.
"Establishing mutually beneficial links, on this inaugural visit, is vital to form a long-term relationship with Brazil."