Hyponatraemia inquiry: Parents do not accept nurses' sympathy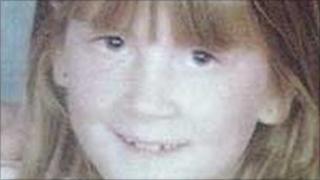 The parents of Raychel Ferguson, who died after an operation in Altnagelvin hospital, say they do not accept the expression of sympathy by nurses.
At the inquiry into the death of their daughter, the nurses' lawyer said his clients were devastated by the tragedy.
Marie Ferguson said it was an insult the nurses spoke through their lawyer and could not express their own feelings when invited to do so.
Mr Ferguson said they had only made a bad situation worse.
The nurses did not apologise. A civil case is still ongoing.
Nine-year-old Raychel Ferguson died at the Royal Belfast Hospital for Sick Children, a day after having her appendix removed in Altnagelvin hospital in Londonderry.
Her death, in 2001, is one of five being investigated by the inquiry.
It is examining the fluid levels administered before their deaths.
In the case of four of the children, an inquest stated that hyponatraemia was a factor that contributed to their deaths.
Hyponatraemia is the term for a low level of sodium in the bloodstream causing the brain cells to swell with too much water.
On Monday, a nurse told the inquiry she should have taken blood pressure and recorded the number of times the Raychel had vomited.
Sandra Gilchrist was a staff nurse working on ward six.
The inquiry heard that nurses had stopped taking Raychel's blood pressure for more than 12 hours.
Counsel for the inquiry asked her if she now thought that blood pressure levels should have been taken.
The nurse replied: "Looking back now, yes it should have been done".
The family's barrister said he wanted to raise three important points,
First why the nurse did not record vomit and significant volumes of vomit and the fact that Raychel had burst a blood vessel;
Secondly why she didn't tell the parents that their daughter had blood in her vomit and why she didn't tell the doctor .
In response, sister Gilchrist said she had recorded coffee grounds (bits of blood) in the child's notes.
The hearing continues.