Belfast Health Trust fined over City hospital asbestos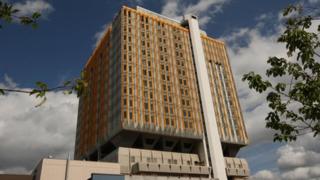 Belfast Health Trust has been fined £10,000, plus costs of £1,750, over health and safety breaches, involving asbestos, at the City hospital.
The trust had previously pleaded guilty to three breaches of regulations.
It followed an incident on 14 January 2011, when two construction workers were potentially exposed to asbestos when repairing a floor.
An investigation was carried out by the Health and Safety Executive (HSENI).
The work involved the removal of a section of a ceiling in order to gain access to the floor above.
The ceiling was constructed of asbestos insulation board (AIB), a material commonly used in many buildings before it was banned in 1999.
The trust had carried out asbestos surveys of its buildings and the City hospital was known to contain asbestos, but the information was not passed on to the maintenance contractors.
A number of staff in key roles within the trust were not trained in the management of asbestos.
"This case highlights the importance of not only having accurate and up-to-date asbestos surveys carried out, but also ensuring that this information is given to anyone who carries out work on premises which are known to contain asbestos," HSENI investigating inspector Hugh Moss said.
"There is no such thing as a safe level of asbestos and cases like this should serve to remind tradesmen and those involved in maintenance activities that asbestos remains a significant danger to their health".