Man was 'beaten up by partner' in Limavady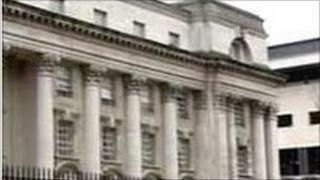 A man was allegedly beaten up by his partner before his home was trashed and set on fire, the High Court has heard.
Ciaran Fleming is accused of inflicting injuries on the victim and then causing tens of thousands of pounds worth of damage to the flat.
According to the prosecution, violence flared after the two men had been drinking at a party in Limavady.
Mr Fleming, 20, a Scotsman of no fixed address, denies the charges.
They include arson with intent to endanger life, burglary, assault occasioning actual bodily harm and threats to kill.
The court was told the pair had been living together for 10 months when the alleged attack happened on 25 January.
Mr Fleming's partner suffered cuts, bruising and scratches to his face and neck, according to the prosecution.
Police called to the Alexander Road flat and found it in disarray, with food and clothes strewn around.
Mr Fleming was later arrested walking away from the property, at which stage he allegedly made threats against his partner's family.
Later on the same night, fire crews had to put out a blaze at the same apartment.
Fire
An intruder had broken in, heaped clothes on a cooker and switched the hob on, a judge was told.
The pile of garments smouldered before catching fire and causing damage to the kitchen area.
A prosecution lawyer said a vulnerable man living upstairs was wakened by an alarm, fearing his own home was on fire.
Police discovered extensive damage throughout the victim's flat, including a television pulled from the wall, smashed items in every room and a laptop computer pulled apart outside the front door.
Asked to quantify the total damage, the lawyer said: "Police are still trying to obtain a full list, but it's in the tens of thousands of pounds."
Forensic evidence from the fire has not yet been provided, with Mr Fleming only allegedly linked on a circumstantial basis.
Opposing his application for bail, the prosecution claimed that when arrested he stated he had a number of safe houses in Scotland to hide from police.
A defence barrister said that Mr Fleming denied any involvement in the burglary or arson attack.
He claims to have been drinking with his partner at another house where the owner tried to start a row between them.
His lawyer said when they returned to the flat an argument was triggered by the alleged victim switching off a computer as he was playing a game.
Mr Fleming also claimed he was locked in the apartment before managing to escape and go to his mother's home.
"He was warned before he was in this relationship with this man that this man would make allegations," his lawyer added.
"It's his belief that previous partners have had difficulties with this man and previous claims have been made against partners."
Mr Justice Stephens refused bail.