Villiers: NI parties have tools to create opposition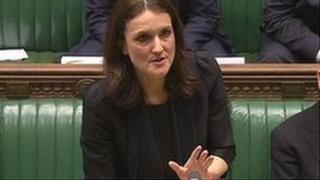 The Northern Ireland Secretary has said the Stormont parties have the tools to create a more formal opposition if they choose to use them.
Theresa Villiers said the NI assembly could choose to allocate funding for an opposition if it wanted.
She said she had not legislated for it as there was not a broad consensus.
Ms Villiers also said she did not see a pressing case for ruling out the possibility of politicians double-jobbing at Stormont and in the Dail.
She was giving evidence about a draft bill that will outlaw politicians holding seats both at Stormont and Westminster.
Questioned about whether the ban should be extended to Irish TDs, the secretary of state said she did not see a pressing case.
But she added that if members of the Northern Ireland Affairs Committee could demonstrate a groundswell of opinion she would look at their concerns.
Ms Villiers also said she did not want to take a dogmatic approach to banning MLAs sitting in the House of Lords.