Massereene murder trial: Gunmen were 'professional hit men'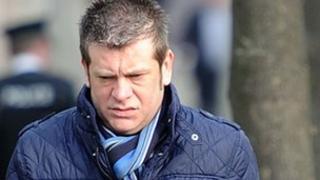 The Real IRA gunmen who killed two soldiers at their Antrim base appeared to be professional hit men, a Belfast court has heard.
The claim came from a forensic expert at the trial of Brian Shivers, 47, from Sperrin Mews in Magherafelt.
He denies murdering Sappers Mark Quinsey, 23, from Birmingham, and Patrick Azimkar, 21, from London.
They were killed at Massereene Army barracks in March 2009.
A firearms and ballistic expert told the court he "thought the attack, for the want of a better word, professional".
The expert, who had presented a computerised analysis of the shooting captured on security CCTV, said the gunmen "seemed to know what their targets were".
The forensic scientist described their shooting as "very proficient".
He said he had concluded from the security footage that the gunmen's initial attack began with automatic gunfire "like a submachine gun".
The gunmen, who between them fired 65 rounds, then switched to semi-automatic, or single shot fire.
The court has already heard that during the 37-second attack, one of the gunmen took time out to reload his AK assault rifle, which had been used in two previous attacks on police stations.
Questioned about the reloading manoeuvre, the senior scientific officer said that normally in a stressful situation it would be a difficult exercise but that "training and practise makes this procedure easier".
The prosecution claim that Mr Shivers had been asked to destroy the gunmen's car and, as such, was party to the deadly plan to commit mass murder.