Rays of light over Belfast City Hall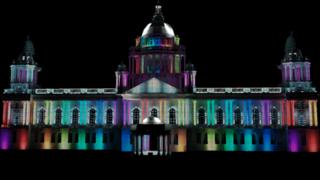 One of Belfast's most iconic buildings will become a beacon of light on six days of the year.
The city hall will be illuminated with various colours on designated occasions.
It will be turned green on St Patrick's Day (17 March) and it will be illuminated orange and purple to mark Orangefest (12 July).
Red is the colour of love and that will be the colour of the lights radiating from the historic building on St Valentine's Day, while rainbow colours will mark Belfast Pride in July.
Hues of red and yellow will mark the Chinese New Year while Polish Independence Day will see the city hall turned red and white.
But the move has threatened to stir up another row within Belfast city council.
The DUP also want another two days added to the list; the Queen's official birthday and Remembrance Day.
But the Alliance Party has said it wants an equality assessment carried out before it is prepared to vote on the matter.
Ulster unionist councillor Bob Stoker said nationalists simply failed to recognise the Britishness of the city hall.
"It came as a major disappointment to unionist councillors that the Alliance Party refused to support red, white and blue lighting for the Queen's official birthday and red and black lighting to mark Remembrance Day," he said.
"As with the vote on the flying of the union flag, Alliance voted with Sinn Fein and the SDLP to erode as many visible signs of Britishness as possible.
"It is clear to those of us within city hall that Alliance are now very much part of an anti-unionist front and this does not bode well for future relations within the council."
However, Alliance councillor Maire Hendron her party had abstained from the vote because there was a procedure to be followed.
She said she wanted proposals for the two days to be put through an equality "screen" as the other six proposals had been.
"When that comes back, and I have no doubt it will pass, we will have no hesitation in voting that those two occasions, the Queen's official birthday and Remembrance Day can be celebrated.
"But if we just go willy-nilly making decisions on the floor of the house without any thought or pre-conversations, we can find ourselves in trouble."
Sinn Fein councillor Jim McVeigh said the city hall belonged to everyone.
"We've been through ten weeks of madness over flying the flag. Does anybody really think it's sensible for Bob and others to make such a silly proposals that we light the whole city hall up red, white and blue on the British Queen's birthday?
"They city hall isn't British, the city hall belongs to everyone. To be lighting the city hall up red, white and blue, or indeed green, white and orange would be madness... it would be marking out the city hall.
"This is about fun, this is about festival. It shouldn't be about politics."