Built in Northern Ireland, shipped to Shetland - a unique hotel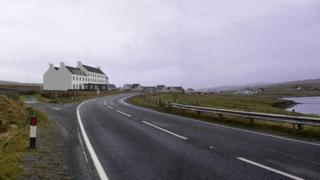 I've been to Shetland.
It was cold.
Not cold in the way you might be thinking; a sort of "woolly jumper and I'll be fine" kind of cold.
Oh no. I mean a heart-stoppingly, bone-bitingly, brutal kind of cold.
And it was the withering prospect of facing the bared teeth of that weather that set the boffins at McAleer and Rushe rushing to their drawing boards last year.
They knew a unique approach was needed when they were asked to tender for a new hotel which, while still in the UK, would be closer to the Arctic Circle than it would be to Manchester.
The result? Well, it is one quite incredible project.
Earlier this week, I sat next to Ben, a crane driver at Warrenpoint Harbour, and watched as he plucked large boxes from the dockside far below and placed them gently into the hold of the Arklow Moor, one of the biggest vessels ever to visit the County Down port.
Each box was shrink-wrapped in white plastic and each contained...... a hotel room. Or rather each WAS an actual hotel room.
We are not talking here about the raw materials to build or assemble a room; we are talking a ready to use, completely finished, walk in and lie down, hotel room.
The bed is in there, dressed and ready to be slept in. There is a minibar, paintings are on the walls. The en-suite bathroom looks as if the room's occupant has just stepped out momentarily, perhaps to grab a towel.
It is like a little moment in the life of a hotel that has somehow become frozen in time - and then shrink-wrapped in plastic.
Eamon Higgins, finance director of McAleer and Rushe, explained: "The rooms have been constructed here locally, fully fitted out. They'll now be shipped to Shetland and we expect to have it on-site within 10 days and hope actually to have the hotel operational within four months."
The Arklow Moor left Warrenpoint on Friday with the hotel's 100 bedrooms safely stowed away along with nine ancillary rooms and everything needed to build the restaurant, gym, reception etc. It arrived in the early hours of Sunday morning.
"The timetable meant that construction had to take place through the winter so obviously that was a driving factor," said Eamon, as he explained why they had plumped for this approach.
"Also, a controlled environment, the availability of a skill base and really having the ball at our feet if you like."
The rooms were all built in Warrenpoint by a company called Sipfit.
Its factory is close enough to the harbour to taste the salty air. A short journey for the finished rooms maybe, but a long journey for the company to get to this point.
"It's taken several years of research and development to develop our system and this product," said managing director Eamonn Connolly.
"It's unique in the world and we see a big future for it."
"The government's low carbon transition plan is effectively the business plan for construction for the next 40 years and you can manufacture buildings in factory-controlled conditions much better than you can on site. You don't have the vagaries of weather etc and, as we move into this new dispensation, this kind of build will be central."
Mr Connolly believes it is this kind of innovative thinking that has helped his firm avoid the worst of the body blows suffered by much of the construction industry in recent years.
"We're a counter-cyclical business," he said. "We're seeing growth in a recession and construction depression.
"It has been challenging as construction is a conservative sector, but the impending building regulations are the catalyst for change and certainly we can bring a lot of work back home through this."
All this is beneficial for the harbour.
Its chief executive, Peter Conway, said: "In the last few years, we've seen a shift to export-led.
"Normally, ports such as this would have had a lot of imports and not so many exports, but the good news is that exports are on the rise and this is a particularly good one because it's a great economic driver for the region with all the employment it has created for the construction of these pods and the hotel bedrooms using all the skill-sets of the region. It's great news for everybody."
The hotel will be called the Moorefield Brae and its modular rooms will all be joined together over the coming weeks as spring finally starts to make its presence felt.
French oil and gas exploration giants Total have already guaranteed significant occupancy by housing their staff in the Moorefield.
McAleer and Rushe say they are confident the bulding will be more than up to the job.
"We are absolutely convinced there will be no issues with this hotel," said Eamon Higgins.
"When you're standing in it, we would believe that you'll not actually be able to tell how it was constructed; that's our firm intention, our firm belief."