Carrickfergus electricity vandals cut power to 3,000 homes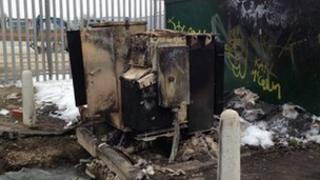 Vandals who set fire to an electricity substation in Carrickfergus on Friday night could have been killed, Northern Ireland Electricity has said.
The fire at the Joy Street station in the town centre cut power to 3,000 homes. All have now had their electricity restored.
NIE said the damage could cost tens of thousands of pounds to repair.
Randal Gilbert from NIE said interfering with high voltage electricity could be lethal.
"We cannot stress strongly enough how dangerous it is to tamper with electricity substations," he said.
"Substations contain live equipment energised at several thousand volts of electricity.
"These vandals were lucky to make it out with their lives. As it is, they caused considerable inconvenience to the local community and local businesses.
"We regret the inconvenience experienced by customers as a result of this deliberate act and will continue to work with the PSNI to identify those responsible."
Mr Gilbert said they were building a replacement substation and salvaging and repairing the network around the vandalised substation.
He said the work would continue throughout the weekend.