Mid Ulster by-election: Two withdraw from TV debate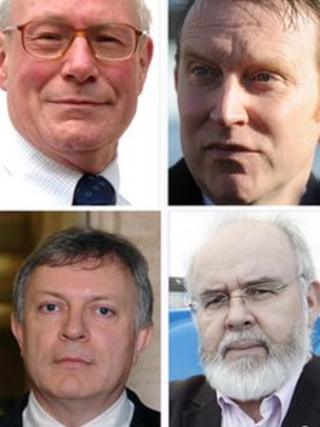 Two of the four candidates in next week's Mid- Ulster by-election declined to take part in the only televised debate of the campaign to succeed Martin McGuinness as MP.
The SDLP and Alliance said the decision by the agreed unionist and Sinn Fein candidates not to appear on BBC NI's The View was "bizarre and unusual".
The BBC had hoped all four candidates would take part.
Issues for debate included the economy, flags and how to build a shared future.
But the campaign team for the agreed unionist candidate Nigel Lutton declined the invitation, explaining that with only a few days left until polling, Mr Lutton would concentrate his efforts on canvassing in Mid-Ulster.
Shortly afterwards, Sinn Fein withdrew Francie Molloy, insisting their previous agreement to debate had been on the understanding that all four candidates would be there.
The View went ahead with the two remaining by-election candidates. The Alliance's Eric Bullick expressed dismay that the public had not been given the chance to hear the views of their candidates.
The SDLP's Patsy McGlone described the other candidates' decisions as "truly bizarre" and quipped that he had heard of abstentionist MPs before but never abstentionist campaigns.