Northern Trust nursing staff 'totally demoralised' says sister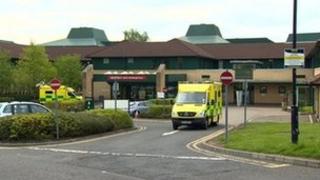 A night sister has told the Northern Trust that its nursing staff are "totally demoralised".
"They believe that their voice is not being heard," said Ann Marie O'Neill who works at Antrim Area Hospital said.
Ms O'Neill said she and her colleagues were working in "organised chaos".
Olive MacLeod, director of nursing and user experience at the Northern Trust, said the trust had invested significantly in nursing and had employed 50 new nurses in 2012.
Ms O'Neill, a member of the Royal College of Nursing, made her comments during an address to the Northern Trust board on Thursday.
"We are obliged to accommodate patients within extra beds for which we simply do not have the staff to provide safe and effective care," she told them.
'Morale'
Ms O'Neill said such "extra beds" were often "not clinically appropriate" and posed a "significant risk" to patients, their families and to staff.
"What progress has been made in improving patient safety and the morale of our nursing colleagues by ending the practice of leaving the most junior band five nurses in charge at evenings and weekends?" she asked.
"Antrim Area Hospital can be a very lonely place at night, with minimal staffing devoid of senior decision-makers, yet patients requiring medical care and attention just keep on coming."
Ms MacLeod said nurses played a "vital role" in the care of patients because they were there 24 hours a day, seven days a week.
"I was in our emergency department this morning at 07:00 GMT," she said.
"I spoke with the emergency sister and her exact words to me were: 'We had a normal, busy night'.
System failures
"There were 30 people in our department this morning, I spoke with the night sister and she placed 20 patients last night but she said it was a normal busy night."
Ms MacLeod admitted there were "weak links" in the system.
"We are having patients coming to our department who perhaps could be cared for at home by our 24-hour nursing teams," she said.
"We are working on direct admission by GPs into our hospitals, we are working on direct referrals from GPs to emergency outpatient clinics on the day - we have many plans that are working through the system.
"It does take some time but we are very mindful about what we need to do to improve our patient journey."
Ms O'Neill also described to board members how she arrived at the emergency department for duty at 20:00 GMT one evening to find 63 patients there.
She said it was extremely difficult to provide safe, effective and dignified care in this setting.
"Fundamentals, such as meeting patients' toileting and hygiene needs, or assisting them to eat and drink, pose significant challenges," she said.
"The impact of this on the dignity of our patients must not be under-estimated."
Ms MacLeod said a new emergency department would be opening in the summer.
"The emergency department was designed and built in the 1980s," she said.
"It was designed to cater for 35,000 people, we see 70,000 plus people in the department. I acknowledge the environment we care for our patients is not what we want."