Alex Attwood to hold talks over Coleraine DVLA jobs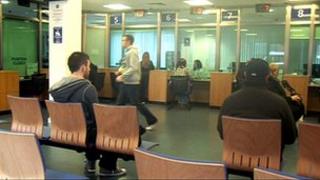 NI's Environment Minister Alex Attwood is to have talks with the UK Transport Department, over fears that hundreds of jobs could be lost at the DVLA in Coleraine, County Londonderry.
There are plans to transfer more than 250 DVLA jobs to Swansea, as part of centralisation moves.
Mr Attwood said he opposed it.
"That is why I backed industrial action by DVLA staff against London proposals to do this and centralise in Swansea," he said.
He said he had already held talks with the various parties concerned and the Department of Transport had given an assurance that no decision would be made without consulting him.
"I will hold London to that commitment and will continue the work of the last 20 months to protect jobs," he said.
"London have made that pledge - it must not be reneged on."
The government wants to centralise the DVLA in Swansea and move more services online by the end of 2013.
As well as Coleraine, jobs would be lost in dozens of offices in the rest of the UK.
Ryan McKinney, from the NIPSA union said it was a serious issue for Coleraine and the area could lose 259 posts.
Mr McKinney said the "axe had been hanging over the staff" in Coleraine since December 2011.
"The staff are obviously very, very concerned that they potentially have the dole office to look forward to," he said.
He said Mr Attwood would have a "tough job" to persuade the government to change their centralisation plans, as they seemed committed to them.
East Londonderry MP Gregory Campbell of the DUP said every effort must be made to keep the jobs in Coleraine.
"The government are not targeting an under-performing agency with a need to make savings as the DVLA is self-financing and produces a significant operating surplus," he said.
"To close in Northern Ireland will permit more evasion here, as our land border with the Irish Republic will make a centralized service in Swansea less productive and less likely to prevent fraud.
"There are also other work opportunities which could be done more cost effectively in Coleraine, compared to Swansea."
'Serious impact'
SDLP assembly member John Dallat has written to the Under Secretary of State for Transport, Stephen Hammond, asking him not to proceed with any job losses.
"If this proposal was to go ahead, with no provision for those who would be left unemployed, it would have a serious impact not just on the people directly affected, but also on the travel to work area which affects not just Coleraine but Limavady and Ballymoney," he said.
"In the last year only three potential inward investors visited Coleraine at the behest of Invest Northern Ireland and, given that unemployment is at a record high, the future prospects for people in that area are very poor, particularly for young people in the age group 16-25."
Mr Dallat added that the "odds are stacked against us".
Sinn Fein's MLA Cathal Ó hOisín said there was all-party agreement in maintaining the DVLA office in Coleraine.
"At a time when the assembly in the north is promoting decentralisation of governmental departments to generate regional prosperity this would be a backward step," he said.
"I also believe that the address system in the north, with townlands and other peculiarities, would result in people having to return licenses as information could be incorrect."