Prof Lamey hearing told records 'not always to standard'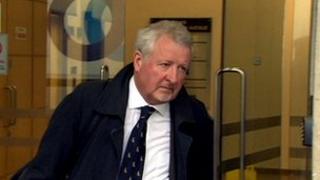 An inquiry by the General Dental Council into the alleged misconduct of a Belfast dentist has heard he acknowledged his level of record-keeping was not always up to standard.
Prof Philip Lamey of the Royal Victoria Hospital denies 43 malpractice counts.
The ongoing hearing is looking at the cases of 33 patients who were under the care of Prof Lamey, who worked at the school of dentistry.
A running theme of the London hearing is the record-keeping in those cases.
Among the allegations made against Prof Lamey are failing to carry out biopsies and failing to act on seeing lesions in patients' mouths and not providing dentists with proper diagnosis.
The hearing follows a major review in 2011 of dentistry care by the Belfast trust after the deaths of four people due to oral cancer and the care of other patients.
At that time, more than 100 people treated by Prof Lamey received hand-delivered letters asking them to return for a check-up. It emerged the recall came a year after the trust first became aware of the problem.
Later when examining the notes of Patient One, a woman with a history of Sjogren's syndrome, the barrister suggested to an expert witness that his speculation was "all one way" and always in the direction against Prof Lamey.
The hearing was told that despite tumours being extremely small, they can often be the most aggressive and difficult to diagnose.