A&E patient safety 'not at risk' says NI health minister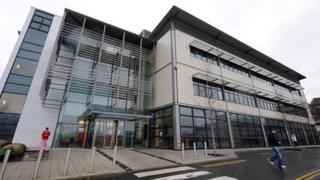 Northern Ireland's health minister has denied that patient safety was put at risk the Ulster Hospital on Monday, after claims of "chaotic" scenes.
Paramedics contacted the BBC to say they had to wait in A&E for hours with patients as the hospital could not cope with the numbers it had to treat.
At one stage, ambulances were queued up outside waiting to admit patients.
But Edwin Poots said no patient's life had been put at risk and anyone who needed emergency care had received it.
The minister added that it was not satisfactory that patients had to wait longer than they should for hospital treatment, but said that at no point was safety compromised.
Earlier on Tuesday, a paramedic told the BBC he had to wait for more than four hours in a corridor with a patient at the Ulster Hospital and as a result he was unavailable to respond to other emergency calls.
Dr Sean McGovern, a consultant from the South Eastern Health Trust which runs the hospital, said a higher than usual number of patients had arrived at A&E on Monday.
However, he admitted there was a shortage of beds at the Ulster.
In response to the paramedics' complaints, the health minister said: "Let's just make it absolutely clear, that people's lives weren't put at risk and that the Ambulance Service were capable of responding to call as they came in and that anybody who required emergency care received immediate emergency care."
"So in all of that, let's not have a message going out that patient safety was compromised - it wasn't," Mr Poots added.
"What has happened isn't satisfactory in that patients are waiting longer than they should to receive care. These are cases that are urgent as opposed to emergency and that's something that we want to address"
The paramedic, who spoke confidentially to the BBC, claimed the closure of Belfast City Hospital A&E in 2011 had had a major impact on emergency departments across the Belfast area.
Since Belfast City Hospital's A&E closed in 2011, the number of people attending the Ulster Hospital is up by 10,000 a year.
John McPoland, from the Ambulance Service, said there would always be times when the service was put under extra pressure.
"Yesterday we dealt with 391 emergency calls, we took 66 patients to the Ulster Hospital.
"Ten of those patients, according to the figures I have, had to wait for up to three hours and two waited for more than three hours in the care of our paramedics.
"We cope with the demand as best as we possibly can," Mr McPoland added.