Opt-out organ donation system discussed at Stormont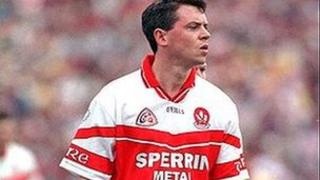 A proposal to introduce an opt-out system for organ donation in Northern Ireland is to be discussed at a meeting in Stormont later.
Under the presumed consent system, every deceased person would be considered as a willing donor, unless they had stated their opposition by opting out.
The meeting has been organised by the British Medical Association.
Health Minster Edwin Poots is among those due to attend the discussion.
Earlier this month, the minister announced his intention to hold a public consultation on attitudes to the opt-out system.
The Ulster Unionist MLA, Jo-Anne Dobson, GAA pundit Joe Brolly and the chair of the NI Transplant Association have been invited to speak at Monday's event.
Ms Dobson, whose son underwent a transplant operation, has been a high profile campaigner for organ donation awareness.
She is in the process of bringing forward a Private Members' Bill that would legislate for a "soft" opt-out presumed consent system, where families would still have to be consulted.
The MLA said she was making steady progress with her bill and hoped to have a full public consultation prepared by Easter.
Mr Brolly made the headlines last year when he became a living kidney donor for his friend and colleague Shane Finnegan.
The operation failed but both men have continued to campaign to encourage more people to consent to organ donation.
Mr Finnegan is also due to participate at the Stomont event.