Sean Lester: Belfast tribute to leading diplomat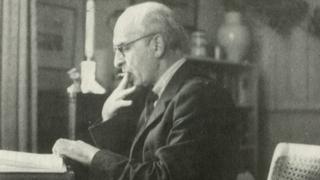 In the icy wind a group of people stood wrapped up well on a pavement in south Belfast.
It was an eclectic group, made up of historians, journalists, political campaigners and family members.
They had all come to see one of their own being remembered.
Sean Lester was a reporter and a diplomat. He would go down in history as the last secretary general of the League of Nations.
Born in 1888 in Carrickfergus, he began life as John Ernest Lester and was a student at Methodist College and lived above his father's grocery shop on the Ormeau Road. His life and career maps out a remarkable story.
A fascinating tale that crosses political boundaries and continents.
From a unionist background, the young Lester became interested in the ideals of nationalism. He joined the Gaelic League, started to use the name Sean and joined the Irish Republican Brotherhood.
He later went on to reject violence and embraced politics and diplomacy.
His granddaughter, Justice Susan Denham, is the Irish chief justice and was the first woman to be appointed a judge in the Supreme Court.
She unveiled a blue plaque at the Lester family's original south Belfast home.
After the ceremony, which was attended by six Lester grandchildren, she told the BBC her grandfather was "a man of his time" who had "a vision for Ireland for the future really in the Wolfe Tone concept ".
Sean Lester started working as a journalist with the North Down Herald and later became news editor on the Freeman's Journal in Dublin.
Critic of Hitler
After he left journalism he moved into the Department of External Affairs in Dublin and in 1934 was appointed to the League of Nations in Danzig, then a free city, now the Polish city of Gdansk.
He witnessed the growth of Nazism and became a vocal critic of Adolf Hitler.
Lucy Kilroy, who is another of Sean Lester's granddaughters, said her grandfather showed great courage.
"He saw how ferocious the Nazis were and he saw what was possibly coming and he was one of the very first people internationally to deal with that," she said.
In 1936, Nazis in Danzig refused to co-operate with him and in 1940 he took over as secretary general of the League of Nations and stayed in Geneva until the end of the war.
Nazi hate figure
Historian Dr Eamon Phoenix, who also spoke at the ceremony, said Sean Lester's role in world affairs has often been overlooked.
He said the Irish diplomat stood up to the Nazis in Danzig and was a "hate figure to the Third Reich but he is now remembered in his home place".
The plaque in south Belfast was organised by the Ulster History Circle.
The group's chairman, Chris Spurr, said that although many saw the League of Nations as a failure because it did not prevent conflict, he believed Sean Lester "embodied the best ideals of international co-operation".
He said the Belfast man had an illustrious life which was "quite a CV, would we all have a CV like that".
After his diplomatic career, Mr Lester was tipped as a future president of Ireland.
However he retired from public life and lived in County Galway where he died in 1959.
His work has previously been commemorated in Poland, but this is the first time his career has been marked in Belfast.
A fitting tribute to a journalist and diplomat who left Belfast and made an impact on the world stage.