Omagh bomb: Colm Murphy and Seamus Daly 'not to give evidence'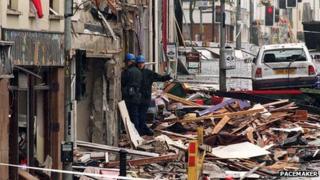 Two men being sued over the Omagh bombing are to give no evidence in their defence, it has been confirmed.
As their civil retrial ended in Belfast a judge was told Colm Murphy has no confidence in the justice system.
Murphy, from Dundalk, County Louth, and Seamus Daly, from County Monaghan, are alleged to have played central roles in the August 1998 Real IRA attack.
A lawyer for some victims' families said their silence was due to having no answer to the claims facing them.
Brett Lockhart QC said: "Despite the seriousness of the case that is bring brought against them, involving one of the greatest, perhaps the greatest atrocity in the whole of the Troubles in Northern Ireland, neither of these defendants have seen fit to attend this court and explain the evidence against them."
Linked
Relatives of some of the 29 people killed in the bombing brought civil proceedings in an attempt to have the two men held liable.
The pair were ordered to face a second trial after their appeals against being found responsible for the bombing were upheld.
Two other men held liable in the initial landmark ruling in 2009, convicted Real IRA leader Michael McKevitt and fellow dissident republican Liam Campbell, failed to have the findings against them overturned.
During the new hearing in front of Mr Justice Gillen lawyers for the victims' families contended that Murphy supplied mobile phones to the bomb team.
Daly is allegedly linked by a call made on one of the phones just after the explosion.
Both men deny the claims and sought a ruling that there was no case to answer due to a lack of evidence.
After the judge rejected their application it was confirmed that neither defendant would be testifying.
Dermot Fee QC, for Murphy, said he was given very clear instructions based on his client having served three years in prison on conspiracy charges linked to the Omagh bombing.
The builder was ultimately acquitted after two garda detectives were alleged to have forged notes and committed perjury.
Murphy believes he has been the victim of a deliberate attempt to alter evidence, his barrister said.
Significant
He has also suffered intense distress, trauma and hostility over being linked to the bombing, the court heard.
Mr Fee added: "He has no confidence in either the criminal justice or civil justice system."
No reason was given for Daly's decision not to take the stand during a trial which heard evidence in Dublin as well as Belfast.
Mr Lockhart pointed out that both men have received significant legal aid funding to defend the case.
He argued that the criminal justice system Murphy claimed to have no faith in had resulted in him being cleared of the conspiracy charges.
"We say the explanation put forward at this juncture is risible and should not in any way be taken into account," he said.
Murphy's "fig leaf of protection" in not testifying first time round, based on pending criminal proceedings, has now gone, it was claimed.
However, both defendant's legal teams argued that their failure to give evidence should not be held against them in determining the action.
Mary Higgins QC, for Daly, also contended that her client was facing "a weak case based on a scintilla of evidence".
Reserving judgment at the end of submissions, Mr Justice Gillen said he expected to deliver a verdict within three weeks