Union flag protests: Matt Baggott defends policing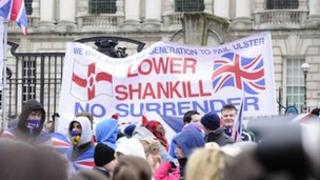 Chief Constable Matt Baggott has again defended the police's handling of the union flag protests.
On Thursday night's The View, he said that 190 people had been arrested for breaking the law during protests and a further 200 others identified.
"There will be further arrests, there will be more charges and there will be hundreds of people brought before the courts," Mr Baggott said.
However, he said the problem could not be "simply arrested away".
"Our approach in the last two months has led to not a single serious injury and that is an achievement by itself," he said.
"If we had been overzealous, if we had tried to arrest people off the streets in a very crude way... I think there could have been a much more serious problem that we would still be facing."
A campaign of loyalist street protests has been taking place since 3 December.
That evening, Belfast City Council voted to fly the union flag at the city hall on designated days only rather than every day.
Mr Baggott said "significant heat" had been taken out of the protests compared to the "intensity of the rioting" in December and January.
A protest planned for Saturday is set to go to police headquarters in the Knock area of east Belfast. Mr Baggott said those taking part must act within the law.
"I hope that this Saturday will see a break from the illegal parades to a place where protest is peaceful and manageable," he said.
"But I come back to the point that there will be consequences for people who choose to break the law."
Sinn Fein assembly member Gerry Kelly said Mr Baggott had "lost the plot" and said police were facilitating illegal parades.
"The police took over the parading issue on 3 December and haven't left it," he said.
"They should be assisting the Parades Commission, their their job is to police determinations but they have given a clear indication and he is saying it publicly now a that they will facilitate parades past interfaces."