Eirigi activist Stephen Murney in court on terror charges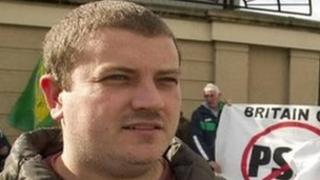 An activist for the republican party, Eirigi, has appeared in court on terrorism charges.
Stephen Murney, 29, of Derrybeg Terrace, Newry, appeared at Banbridge Magistrates Court sitting in Newry.
He was charged with collecting information likely to be of use to terrorists, possession of articles for use in terror and aiding and abetting criminal damage.
The court heard the charges related to thousands of photographs of police.
Mr Murney was already being held at Maghaberry Prison in relation to previous charges of collecting information likely to be of use to terrorists when he was released into police custody for further questioning on Wednesday.
The court heard that the photographs in question were found in his possession when his house was searched.
A Public Prosecution Service lawyer said: "Additional photographs have been found that were posted onto Facebook with various slogans attached.
"Thousands of photographs of police have now been recovered and the threat assessed against the police is severe. It is the view that this threat has been enhanced by these additional charges.
"The group with which the defendant is believed to be associated with are Ireland-wide and are known for facilitating a safe passage out of the country." .
Mr Murney was remanded in custody to appear again on 6 March.