Suspended sentence for home alone children's mum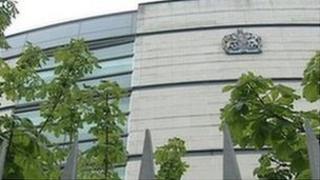 A mother-of-four who left her children, including a six-month-old baby, at home while she went drinking, walked free from Belfast Crown Court on Thursday.
The woman, who cannot be identified in order to protect her children, pleaded guilty to a charge of causing actual bodily harm to her son.
She also admitted six charges of child cruelty by abandoning him on dates between January 2010 and May 2011.
The judge imposed an eight-month sentence suspended for two years.
The court heard that twice a week, the single mother left her nine-year-old son in charge of his younger siblings aged seven, two and six months to go out to "socialise" with friends.
She left the boy with a mobile phone but with no instructions on how to use it or a number where she could be contacted.
'Came home drunk'
Prosecuting lawyer Philip Henry said the boy was able to tell police and social workers how he would make up bottles for the baby and that his mother would come home smelling of drink.
The lawyer described the final incident when the 29-year-old woman came home so drunk that she could not let herself into her own house and had to ask a neighbour and then her seven-year-old daughter for help in finding her keys.
It was then that the "wilful abandonment" of her children came to light and the court heard of a specific incident when the eldest boy was taken to hospital with a cut on his forehead after his mum "threw a glass in his direction" during an argument and it smashed on the wall, leaving him with a laceration above his eye.
Arrested and interviewed, the woman admitted that after leaving her son in charge of his younger siblings, she went out to pubs, to friends' houses or "in the car with a friend" but would only give police the first name of one friend and refused to give any further details of whom she had been with.
Her son told police how his mum would leave at around 10pm and not return until around two or three in the morning, but that she called him once an hour on the mobile phone she had left with him.
There was also evidence, said Mr Henry, that the boy had "missed a significant number of days at school - around 20 - because he would be too tired in the morning as a result of him having to be up late to look after the family".
'Extremely ashamed'
He said the nine-year-old boy also told of how, even when he was so tired, he had to get breakfast ready for his brothers and sisters because his mum "would get up late in the afternoon".
The lawyer said while the indictment only related to the eldest boy, it could have been expanded to include the rest of the family and the neglect "involved the household".
Defence lawyer Kelly Doherty said the case was "very upsetting" and that the defendant herself was "extremely ashamed and embarrassed to find herself before the court".
She said it was not a case of her treating her children badly, claiming that she provided a "loving and supportive environment" for them, but that she was alone, "struggling desperately" and simply could not cope.
Ms Doherty said the woman had called Social Services seeking help and assistance but that none was forthcoming. She added that, ironically, now she is before the court, she is "getting all the help she needs".
The lawyer told the court that since the behaviour came to light, the children have been removed from the 'at risk' register and that their mother had "done everything she could have to provide a good standard of care for her children".
Imposing a suspended sentence, Judge David McFarland told the woman he believed she had been immature and an inadequate parent who had put her social life before the needs of her children, but that the steps she had recently taken "gives the court some confidence".
He added that although the offences warranted a jail term, he had to take into consideration the impact such a term would have on the children because if she went to prison, they would have to go into care as there was no-one else to look after them.