Two charged over attacks on Firmount Drive, Antrim, houses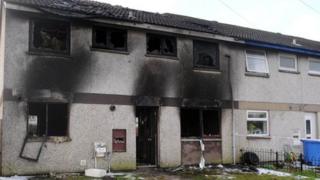 Two people have been charged as part of the investigation into a serious of attacks on homes in a housing estate in Antrim town.
A gang smashed windows and tried to force their way into two properties at Firmount Drive on Monday night, before a third property was set on fire.
A 44-year-old man and a 16-year-old girl arrested after the attacks have been charged with various offences.
They are due to appear at Coleraine Magistrates Court later on Wednesday.
The man faces five charges including aggravated burglary with intent to inflict grievous bodily harm (GBH) and disorderly behaviour.
The teenager has been charged with aggravated burglary with intent to inflict GBH.