Child abuse inquiry to launch poster campaign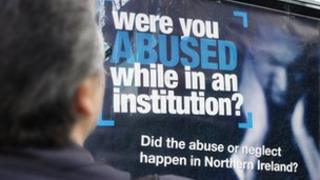 The Historical Institutional Abuse Inquiry in Northern Ireland is to launch a promotional campaign later in an attempt to get more victims to come forward.
Advertising space on 80 bus shelters will be used in a bid to engage survivors.
Posters and literature will also be distributed to organisations in the UK and Ireland,
The campaign will be launched in Belfast on Thursday.
At the presentation in the Ramada Encore Hotel in Belfast's St Anne's Square, its chairman Sir Anthony Hart will review the inquiry's work to date, and outline his plans for its investigation work.
This will include details of the categories and the number of institutions that have been identified that "may potentially be the subject of the inquiry's investigation".
Sir Anthony will also outline details of the practical support that the inquiry is making available to witnesses.
Norah Gibbons, a member of the inquiry's Acknowledgement Forum Panel, will explain the work of the forum at the event.
The forum is designed to provide a "reassuring environment where victims and survivors can recount their experiences in a more relaxed setting than a statutory inquiry chamber".
Victims and survivors can apply to testify to either the acknowledgement forum or the statutory inquiry panel, or both.
An inquiry spokesperson said Sir Anthony wished to ensure that as many victims and survivors as possible were made aware of its existence "and of the steps which the inquiry is taking to try to address the fears of those who may be worried about lifting the telephone to talk".
"The inquiry appreciates that for many victims and survivors recounting their experiences can be very painful and traumatic," they said.
"We hope that today's presentation and our promotional campaign will encourage potential witnesses to come forward."
The second presentation will take place on 27 February at the Everglades Hotel in Londonderry.
The inquiry began work last October and is examining the extent of child abuse in Catholic church and state-run institutions in Northern Ireland.
It was established following the damning Ryan Report in the Irish Republic that uncovered decades of endemic abuse in some religious institutions.
It is understood there will not be any opportunity for questions from the floor at the presentations in Belfast and Derry.
The inquiry has said a "subsequent presentation will be arranged specifically to deal with associated procedural issues which will be of interest to representatives of institutions and applicants".