Man down! Rihanna tree is dying according to farmer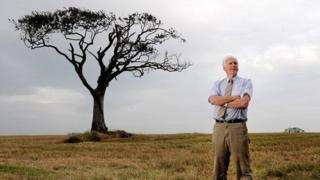 A tree that was featured in Rihanna's controversial We Found Love video is dying according to the farmer on whose land it stands.
Rihanna caused a media storm when Alan Graham told her to cover up after she stripped down for filming in his field.
Mr Graham was fetching his tractor when he saw her and found her outfit unacceptable.
The video went on to win the best video of the year award at the MTV VMAs.
Mr Graham's farm is located on the main road from Bangor, County Down, to Belfast and the tree has become a bit of a tourist attraction in the last year.
Take a bow
The farmer's barn, which has the bible verse John 3:16 in capital letters printed on it, can be seen alongside the tree from the road.
So could this good tree gone bad be doomed to a hopeless place?
"There are bits blowing off the tree and there is a large split up the middle, there's a lot more cultivation in the field now and the plough could have damaged the roots," he said.
"It is also a very old tree so old age could well be taking its toll."
Although Rihanna fans hoping the tree will get to stay where it is don't have to worry just yet.
Mr Graham said the tree would not be taking a bow and retiring from the landscape just yet.
"I won't be cutting it down, I'll leave the tree as it is and let mother nature take her course".
He also remarked on how the tree had become a bit of a 'diamond' on the local landscape.
"I suppose it always was a landmark even before the visit of the famous young lady. People would have come to photograph and paint it. In fact, even last night some people came to photograph the tree to capture the stars in the background," he said.
"It has always inspired people's imaginations."
It is not known how old the tree actually is but the farm has been in the family's possession for almost 100 years.
The video was filmed in September 2011 and at the time Mr Graham said after he noticed what Rihanna was wearing during the filming he went and spoke to her.
Man down
"I had my conversation with Rihanna and I hope she understands where I'm coming from. We shook hands," he said.
"I do not believe young ladies should have to take their clothes off to entertain".
"I am entitled to hold that opinion," Mr Graham said.
"I would have more respect and more care for that young lady than lots of the people running about who want to see her taking her clothes off.
"I wish her no ill."
Mr Graham also told the BBC it was "sad that in the modern entertainment world pretty young women have to take their clothes off to entertain what I would describe as frustrated billy goats".
He made no objection to the filming of Rihanna when she was wearing beachwear.
The story made headlines across the world and Mr Graham is now making a documentary for the BBC looking at youth music culture.