Crochet-hooked on love in Ulster Kama Sutra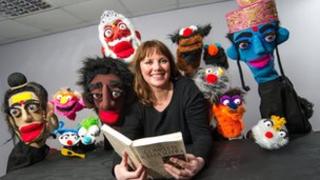 In a place that once hosted a campaign under the banner Save Ulster from Sodomy, sex is a sensitive issue.
Northern Ireland has a reputation as a tight lipped, Conservative, never-with-the lights-on kind of a place.
So that when director Andrea Montgomery, musician Anthony Toner and comedian Nuala McKeever hooked up to produce a cabaret 'mash up' on sex in Northern Ireland, you could say there was a degree of delicate foreplay.
They had to tread carefully.
But now, their show, The Ulster Kama Sutra, has just opened in Belfast. Putting the word 'Ulster' beside the words 'Kama Sutra' is like dolloping mayonnaise on your apple tart. They are not natural bedfellows.
Nobody was bending over backwards to host a play on sex... after all, they had seen past protests
"I have very dear friends who were saying: 'No, Andrea, I can't take that play'," said Andrea from Terra Nova Productions.
She understood what they were saying because she had run the Riverside Theatre in Coleraine, County Londonderry, and had witnessed enough protests over the staging of shows like Jesus Christ Superstar.
Anonymous
But having conceived the idea, the writers pressed on... even though it meant resorting to knitted puppets.
"I had the very good fortune to meet a crochet artist and she crocheted me vaginas and willies with lips and eyes that could talk," said Andrea.
She had spent two years researching sexual attitudes and experiences in Northern Ireland, so her puppets were never tongue-tied.
Andrea set up a wooden booth, called The Foxy Box of Thoughts, in Belfast and invited people to record their sex lives honestly.
The play is based on 100 anonymous interviews from the booth.
Andrea asked people what was challenging, what was wonderful and what was funny about sex. She got them to draw their answers.
There was a lot of a laughter and some stories that touched the heart, she said.
"One girl who was gay told about how her parents arranged a phone exorcism to save her from the devil of being gay.
"A woman talked about the first time she found her husband wearing her clothes."
When she asked what was wonderful about sex in Northern Ireland, Andrea got pictures of rolling hills and long beaches, suggesting a heartfelt love for the great outdoors.
The Ulster Kama Sutra runs in the Baby Grand Studio of Belfast's Grand Opera House from 12 - 23 February and will then tour theatres across Northern Ireland.