Apprentice Boys find four cannon in Londonderry headquarters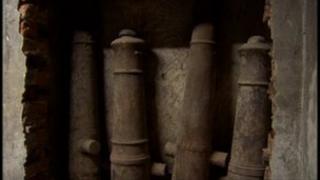 An extra four cannon have been found hidden in the headquarters of the Apprentice Boys of Londonderry.
The cannon were discovered by a member of the Apprentice Boys in the basement of the memorial hall at Society Street in November.
One theory is that they were hidden in a bid to prevent them being melted down during the Second World War.
An expert has told the Apprentice Boys he believes the cannon date from the 19th century.
Governor of the Apprentice Boys, Jim Brownlee, said one of the organisation's members found the cannon in a cavity behind a sealed-up wall when he was working in the memorial hall.
"There was a gap and he realised there must be a false wall, so we stuck a camera down and had a look inside and lo and behold we found four cannon," he said.
"We had an expert in looking at them and he said they are not siege period they are probably 19th century cannon.
"There is a theory that in the 20th century during the Second World War whenever the government were calling in metal items to be melted down for armaments that there was a possibility they may call in the like of the cannon.
"So it may have been the case that they have put them in here behind the wall for safe-keeping."
Mr Brownlee appealed for more information about the cannon from the public and said it was hoped to put them on display when the Apprentice Boys' new heritage centre was completed.