Speedboat driver who killed boy, six, has sentence deferred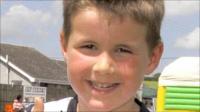 Sentencing has been adjourned for a day in the case of a speedboat driver who admitted killing a six-year-old boy in a seaside crash.
Damien McCann from Sandyhill, Newry, pleaded guilty to the manslaughter of Stuart Wilson at Cranfield on 30 August 2010.
The Rathfriland boy was being towed on a wake board when McCann's speedboat struck him. He suffered severe head injuries and died several days later.
McCann was remanded in custody.
The Wilson family were holidaying at the Shanlieve caravan park close to the beach at the time of the accident.
On Monday, Newry Crown Court heard that McCann had intended to make a trip to a lighthouse, go around it and return to the beach.
But he raised the bow of his speedboat too high and failed to spot Stuart or the other boat behind which Stuart was being towed parallel to the beach.
At the last minute, he swerved to avoid the boat and hit either Stuart or the tow rope.
A lawyer for McCann, who owns Archview Scaffolding in Newry, said his client felt "genuine remorse" about what he had done.
He said he had never set out with the intention of hurting anyone that day but had simply decided, on the spur of the moment, to have a family boat trip, a boat trip that had gone "horrifically wrong".
He said McCann had never been able to talk about the events of that day with his own children who had been in the boat with him and, therefore, witnessed the terrible events.
Expressing his sympathy to the Wilson family, the judge Mr Finnegan recalled how he had "come within a whisker of losing his own children" when they were a similar age to Stuart.
He said he wanted to ensure he gave the matter the fullest consideration so put back sentencing until Tuesday.