Ulster Farmers' Union: Anger over horsemeat scandal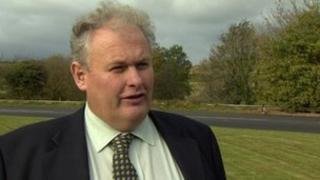 Northern Ireland's farmers feel angry and "badly let down" by the ongoing revelations in the horsemeat scandal, the Ulster Farmers' Union (UFU) has said.
UFU president Harry Sinclair said local farmers have "gone to great efforts and expense to implement a world class traceability system".
Mr Sinclair claimed they had been "let down by others in the food chain".
He said farmers were not prepared to accept additional costs as a result.
The UFU president made the remarks on Sunday, after a week of fresh revelations about meat contamination in the UK.
Contamination
On Sunday 3 February it emerged that a County Tyrone food company had supplied halal products to UK prisons that contained traces of pork DNA.
On Tuesday 5 February, the Food Standards Agency (FSA) confirmed that a consignment of frozen meat in a cold store in County Down, contained about 80% horsemeat.
The Newry firm, Freeza Meat said it was storing the consignment at the request of a company in the Republic of Ireland and added that none of the meat had got into the food chain.
Two days later, the FSA said tests on packs of Findus beef lasagne in Great Britain revealed that some of the products contained up to 100% horsemeat.
With each revelation, the international investigation widened across EU borders.
Price pressure
When details of the horsemeat contamination scandal first broke in the Republic of Ireland on 16 January, Irish food processers claimed the contaminated meat products had been supplied by companies in Poland.
However, the horsemeat lasagne had been supplied to Findus by the French food company, Comigel.
By Sunday 10 February, the Romanian government was examining the possibility that horsemeat found in beef products in Britain and France had come from an abattoir in its jurisdiction.
In a statement, the UFU president said Northern Ireland farmers had invested in a "birth to farm gate" traceability system in the local red meat sector, which was complemented by the Farm Quality Assurance Scheme.
Integrity
He said they had done so at a time when farming incomes were falling and farmers were "consistently been forced to take low incomes in the beef sector as supermarkets and processors relentlessly press for low prices".
Mr Sinclair added: "Every effort must be made to safeguard the integrity of our beef industry.
"Government, processors and retailers must all step up to the mark and I reiterate that farmers, whose incomes fell by over 50% last year, will not accept the burden of any extra costs which may be imposed because of the actions of others in the food chain."