First class: George Best on new 'football hero' stamps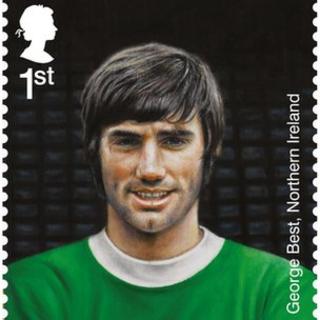 Legendary footballer George Best features on a new set of stamps - almost 50 years after he first pulled on a Manchester United jersey.
The Royal Mail stamps celebrate 150 years of the Football Association.
Best was born in Belfast and signed for Matt Busby's Manchester United at the age of 17.
He is one of 11 of the greatest football heroes from Northern Ireland, England, Scotland and Wales to feature on the new Royal Mail stamps.
The stamps have been illustrated by artist Andrew Kinsman, who used photographs of all the players.
He then created a composite artwork, so that when the 11 stamps are placed together, they form a traditional team shot.
The eleven players selected were chosen for their outstanding record on the pitch and representation of their home country.
When Bob Bishop, a Manchester United scout based in Northern Ireland, first saw the 15-year-old George Best he told United manager Matt Busby: "I think I've found you a genius."
His instinct would not let him down.
A darting, sublimely skilful player who could pass, shoot, tackle, head but above all dribble with the sort of insouciant brilliance that manifests itself no more than once in a generation,
Best had the looks and charm to match his talent, a combination that meant he lived his life on and off the field under a permanent media spotlight.
While he was to find coping with such extraordinary pressure an ongoing challenge, with the ball at his feet Best was arguably the most naturally gifted footballer Northern Ireland has ever produced.
Best was also an alcoholic who died in 2005 aged 59, after suffering multiple organ failure.
Alongside him on the new stamp collection are Kevin Keegan; Bobby Charlton; Bryan Robson; John Barnes; Gordon Banks; John Charles; Jimmy Greaves; Denis Law; Dave Mackay and Bobby Moore.
The stamps will be released in May.