Ulster Bank takes control of sites in Dundalk and Dublin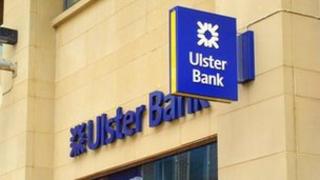 Ulster Bank has appointed receivers to properties in the Republic of Ireland which were owned by a County Tyrone-based developer.
The bank has taken control of land at Priorland in Dundalk which had been owned by Kinler Developments.
It has also taken over two sites in Dublin which had been owned by Tiffen Developments (IRL).
Between them, the two firms owe the bank around 40m euros (£34.5m).
Last week administrators were appointed to two related firms in Northern Ireland - Tiffen Developments and S&F Properties - both based in Cookstown.
In 2008, the land at Priorland received planning permission for a major residential development consisting of 134 townhouses and 59 apartments. Bank borrowings of 28m euros (£24.2m) are related to this land.
In Kinler Development's last set of accounts, for 2011, the directors valued the land at more than 29m euros (£25m), but the auditors said there was "limited evidence" for this.
The Dublin sites are at Grace Park Road in Drumcondra, which has planning permission for 19 houses, and at Swords Road in Malahide which has planning permission for 27 apartments in three blocks.