John Lewis: questions raised as retailer abandons Sprucefield plan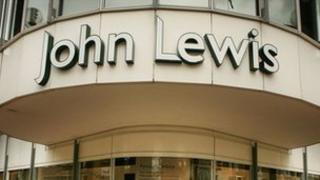 The department chain store, John Lewis, has withdrawn its plans to build a new store at Sprucefield, outside Lisburn. BBC Northern Ireland's business and economics editor, Jim Fitzpatrick, answers some of the big questions raised by the latest twist in the nine-year-old planning controversy.
There is no other retailer that seems to excite the passions of consumers like John Lewis. It is a kind of Disneyland for some shoppers, where they expect their dreams to come true. But let's try and be dispassionate for a moment.
Has the Environment Minister, Alex Attwood, followed best practice in limiting the type of retailing at Sprucefield and designating Belfast as the major shopping destination with other cities following-in behind?
Based on what happens elsewhere, it looks as if he has. The application for the Sprucefield development, which is about ten miles from Belfast, does not just include John Lewis - it comprises another 19 retail units with a total floor space exceeding 500,000 sq ft. That is somewhere between the size of Belfast's two main shopping centres - Castlecourt and Victoria Square. It is the kind of out-of-town development that would be rejected in most places where planning policy is generally weighted to protect and promote town centres. The fact that John Lewis is the anchor tenant should not be used to persuade planners to ignore their own rules.
If the application was solely for a John Lewis store at Sprucefield would the decision be different?
That would be a less controversial application, but it would not work economically for the developer. The usual economics of such developments is that anchor tenants - such as John Lewis - are given sweetheart deals to sign up and the other retailers pay the rent. Without the other 19 units, this development may not stack up economically.
Would the Sprucefield development have encouraged large numbers of shoppers from the Republic and thereby been good for the Northern Ireland economy?
Many southern shoppers already come to Sprucefield and no doubt more would follow if John Lewis were there. But, like the trips to Ikea on the other side of Belfast, the vast majority are day-trippers who leave once the shopping is done. Retail is an important part of the tourism offering and, to maximise that trade, a Belfast city centre would be better as it would encourage people to stay overnight and spend money elsewhere.
Will the Stormont Executive overrule Alex Attwood, as John Lewis and the developers appear to want?
That is unlikely. Although First Minister Peter Robinson and the DUP are seeking to call-in the minister's decision, I understand Sinn Fein is not supporting that. Overruling a minister would have huge consequences for the entire system of government and set a precedent that Sinn Fein wants to avoid.
Will John Lewis consider a Belfast location or will they go to Dublin?
That is up to them. There are exchange rate issues to deal with if they locate in Dublin which they would avoid in Belfast. But, ultimately, it is their call. In fact, John Lewis has already announced a "heads of terms" agreement to put a store in Dublin city centre - so it may not be an "either, or" situation. But, for now at least, John Lewis say the Dublin development is on hold pending a return to growth in the Irish economy, increased consumer confidence and retailer demand.