'Brussels sprout diamond' ring seized from builder's wife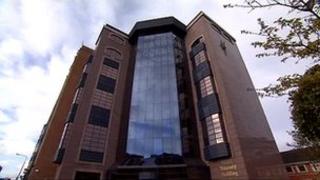 The Irish bad debts agency has won the right to seize an 8.36 carat diamond ring said to be "the size of a small Brussels sprout".
The National Asset Management Agency (Nama) took the unprecedented step of going to court to get the ring they say is worth 150,000 euros (£129,427) as well as a necklace and bracelet.
The jewellery belongs to the wife of millionaire developer John McCabe.
In court in Dublin on Thursday the judge ruled in Nama's favour.
A receiver has been appointed.
Nama claimed Mary McCabe - the wife of property developer John McCabe - had refused to hand over the jewellery to help meet 20m euros (£17.2m) in judgements against her.
It argued that its position and that of the taxpayer would be prejudiced if the jewellery were sold.
The Irish Independent's legal editor Deabhail McDonald told RTE on Friday that she had spoken to someone who described the ring in question as "the size of a small Brussels sprout".
"Apparently it was just absolutely huge," she said.
"Normally you would appoint a receiver over a company, a set of companies or a building. But Nama has gone in and appointed a receiver over a ring, a bracelet and a necklace."
Ms McDonald said there was a dispute over the value of the ring - Nama claimed the ring alone was worth 150,000 euros and Mary McCabe said the set of jewellery was worth 140,000 euros (£120,815).
"It would be fair to say there is a significant amount of distrust between John McCabe and Nama,," Ms McDonald told RTE's Good Morning Ireland programme.
"John McCabe is what might be known as the "Millionaires' Row" developer. He would be better known as one of the Anglo 10 or Maple 10. He is one of the people who each bought a 10% stake off Sean Quinn back in 2008."
Last year, Mr McCabe was ordered to repay amounts of more than £100m euros (£86.2m) to Nama.