John Lewis withdraws plans for store at Sprucefield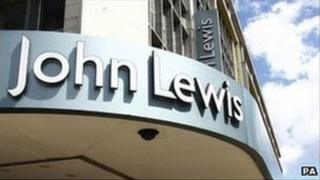 John Lewis has withdrawn its plans for a department store at Sprucefield, near Lisburn.
It follows a controversial decision to limit further development in the area to "bulky goods", like furniture.
The Sprucefield plans, which include 19 retail units, were to have been considered by the Planning Appeals Commission (PAC) in March.
However, the consortium behind the plans said uncertainty over planning meant they "cannot proceed to inquiry".
The application was made by the developer Sprucefield Centre Ltd - a joint venture between the Australian property firm Westfield and the local developer, Snoddons.
Last month, Environment Minister Alex Attwood confirmed that a new area plan would limit further development at Sprucefield.
Now, the consortium have confirmed they have withdrawn the application, citing the minister's decision.
Planning policy
In a statement, they said they had been committed to investing more than £150m into Northern Ireland and create more than 1,500 retail jobs.
"Over the last nine years John Lewis has clearly and consistently stated that, having reviewed all available options, Sprucefield is the only suitable location to develop a new full line department store in Northern Ireland," they said.
However, the consortium said they would review their position once the executive had clarified the planning policy.
"John Lewis has reiterated its continued interest in opening a new department store at Sprucefield," they said.
Last Friday, First Minister Peter Robinson said the issue of retail policy was "a matter for the whole of the executive to take a decision on, and not just for one minister".
A planning application for the 500,000 sq ft development was first made in 2004.
Objectors have said the scale of the Sprucefield project would damage town centres. Supporters have said it will bring jobs.
The planned development at Sprucefield was said to have been one and a half times the size of the Castlecourt shopping centre in Belfast.
John Lewis had committed to being the anchor tenant at the development.
The project has faced a series of legal challenges from some Lisburn traders who fear it could damage city centre shopping.
Rival retail landlords have also opposed it.