'We get nothing' claims annoy Sammy Wilson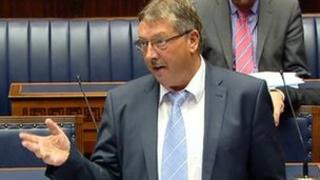 Finance Minister Sammy Wilson has expressed his annoyance at some unionists who complain "we get nothing" from the peace process.
The minister was speaking during assembly question time.
"It does annoy me sometimes at the kind of ill-informed comment that comes from people who seek to agitate when I hear this 'we get nothing'," he said
He said those who complain should look at the facts.
Mr Wilson drew attention to the Skainos Project in east Belfast, "a magnificent regeneration project" which had received £6m from European Union Peace 3 funding.
He also listed two payments to the Grand Orange Lodge of £3.6m and nearly £1m, and a payment of £2m to the Apprentice Boys of Derry.
"I just wish some of those people who complain 'we get nothing' would actually look at the facts," the minister added.