Iron Maiden's Bruce Dickinson to address Belfast dinner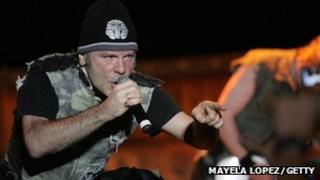 The lead singer of Iron Maiden is to address a meeting of Northern Ireland businessmen next month.
Bruce Dickinson has been the lead vocalist for the heavy metal group since 1981.
They are the headline act for this year's Download Festival and are to return to Donnington, the UK's largest heavy metal festival, this year marking 25 years since their first headline appearance at the concert.
Then they played to 107,000, the Insitute of Director's gig in Belfast next month for Bruce Dickinson will be slightly smaller and probably wearing less denim.
The rocker is a relative newcomer to the speaker circuit, but runs a successful business outside of his music interests.
Chairman of the Institue of Directors Mervyn McCall said the dinner was the highlight of their year.
"I'm sure everyone who attends will be greatly anticipating hearing from Bruce and how he combines his musical and business careers," he said.
"No doubt he will reveal the parallels between the world of the rock star and the world of the business director."
The band has sold more than 80m albums, but lead singer Bruce Dickinson combines his hard-rocking stage persona with another role as a commercial pilot and businessman.
He is a qualified commercial pilot and in 2008 he flew the band across the globe on Flight 666.
He also heads Cardiff Aviation Ltd which specialises in heavy maintenance of Airbus and Boeing commercial aircraft.
Mr Dickinson is not a stranger to Belfast, during the Troubles Iron Maiden were one of the bands which regularly came to play the city.
They most recently played Belfast two years ago.