Peter Robinson and Martin McGuinness consider Brazil visit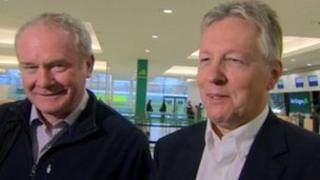 The first and deputy first ministers are considering visiting South America in March before travelling to Washington for the White House St Patrick's day festivities.
It is understood the ministers have been consulted about a trip to Brazil to promote trade and investment.
Brazil is one of the world's fastest growing economies, currently ranked seventh in the world.
The trip is also likely to involve cultural ties.
Stormont sources say there has been discussion about a visit which would see Peter Robinson and Martin McGuinness meeting leading Brazilian business and political figures.
It could also include a visit to Sao Paulo's football museum when George Best's contribution to soccer is likely to feature.
Mr Robinson and Mr McGuinness are flying out of Northern Ireland in the middle of this week to attend a conference in Brussels examining the impact of European peace money on bridging the divide between the communities in Northern Ireland.