Police investigate a bomb near PSNI officer's home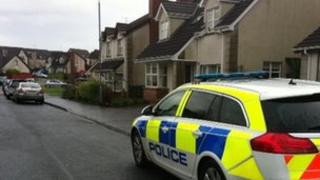 Investigations are continuing after a bomb was found close to the home of a police officer in County Tyrone.
The device was found in the Coolnagard area of Omagh on Saturday.
It was found during follow-up searches into an incident on the Kevlin Road on Friday night when the off-duty police officer fired shots.
No-one was injured. Police have been carrying out door-to-door inquiries in the area on Sunday.
Detectives say they want to speak to anyone in the area who noticed anything out of the ordinary between the hours of 08:00 GMT and midnight on Friday as well as over the past number of months.
Ulster Unionist West Tyrone MLA Ross Hussey condemned those behind the device.
"The PSNI deserve our support and Friday night's sinister incidents in Omagh are very worrying for the officer concerned, his family and the wider community," he said.
Sinn Fein West Tyrone MLA Declan McAleer has said people living in the area are annoyed at what has happened.
The Police Ombudsman has been informed about the shots being fired.