Marian Price given bail after death of sister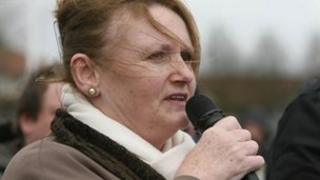 IRA bomber Marian McGlinchey, formerly Price, has been granted bail after the death of her sister Dolours Price, also a convicted bomber.
There was confusion as to whether or not McGlinchey, 58, was already on bail in relation to the two sets of charges she faces,
However, Judge David McFarland granted bail on both sets of charges.
He added that now, it will be a decision for the Parole Commissioners whether she is released or not.
In a statement a Prison Service spokesman said: "Any application for compassionate leave will be processed in line with procedures."
McGlinchey, of no fixed address, is currently facing two sets of charges, that she allegedly provided a mobile telephone for a terrorist purpose on 8 March 2009, shortly before two soldiers were shot dead at Massereene barracks in Antrim and also that she aided and abetted a meeting in support of an illegal organisation on 25 April last year.
McGlinchey had been granted bail at the time but she was taken back to jail after the then Secretary of State Owen Patterson revoked her licence.
Marian was convicted along with her sister Dolours Price for their part in the IRA car bomb attack on London's Old Bailey courts in 1973 in which one man died and more than 200 people were injured.
Dolours Price died on Wednesday at St Margaret's Road, Malahide, County Dublin.
They are not treating the death as suspicious at this stage.