Sydenham, east Belfast, homes flooded due to pump fault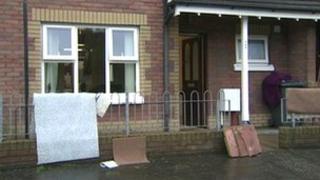 A number of homes have been flooded in the Sydenham area of east Belfast.
Northern Ireland Water said the inside of twelve homes in Lisavon Street were damaged after a pump at a water pumping station stopped working early on Saturday morning.
Most residents were sleeping when the sewage flood water went into their homes. It is the second time in seven months the street has been flooded.
In a statement, NI Water apologised for any inconvenience.
Resident Peter Murray said: "I phoned Northern Ireland Water in the early hours of the morning as soon as this happened and with their floodline you get directed out to Newcastle in England.
"The girl said there's somebody on their way to assist you.
"About an hour later someone arrived and we could hear the drains activating and the water started to clear away, but by this stage it was too late."
A spokesperson for NI Water said that incidents can be reported directly to the company on their Waterline number: 08457440088.